After having climbed the highest peak of Maiella mountains by going through the impressive Giumenta Bianca, the Rava della Vespa perhaps the most beautiful, long and exciting descent in this area. A route that remains in the hearth of people who do it.
#1. Maiella
Maiella mountains are included in the National Park of the same name that it was established in 1991; for its specific environment, snow coverage, long and continuous descents, it earned a reputation between skitourers of Northern Italy and Europe, Austrian and Swiss in particular. The western slope, where our route is located, is characterized by a sequence of couloirs, locally named "rava", many accessible by ski. Be aware that almost all Maiella's routes have more than 1000 m of difference in height and at least medium ski difficulty (BS="Good Skier", "Blachere" skitour scale of difficulty), so you need to be in good physic condition and to have a good ski technique. There are only a few less difficult skitour routes: I can mention that from Campo Giove (CH) which takes advantage of the ski lifts to climb Tavola Rotonda or that starting from Maielletta (CH) to get to Blockhaus.
#2. Route
Amaro peak (2783m) besides being the main summit of the chain, is right in the middle of Maiella mountains, therefore you have a comprehensive view of them. Rava della Vespa it's probably the most exciting "rava" to ski: a straight but large couloir with a medium and continuous slope angle with 1000 m of difference in height (start from 2640m of altitude). To go downhill, it's not necessary to get on the top of Amaro peak, for example by going up Rava del Ferro, but this option is recommendable when Lama Bianca road is cleared from snow and that happens in the late spring (from the end of April). We instead chose to climb Giumenta Bianca because it is more direct and the starting point is a bit higher (Fonte Fredda, 1265m) compare to the beginning of the Lama Bianca road (1110m) that was still closed because of too much snow.
#3. Our Trip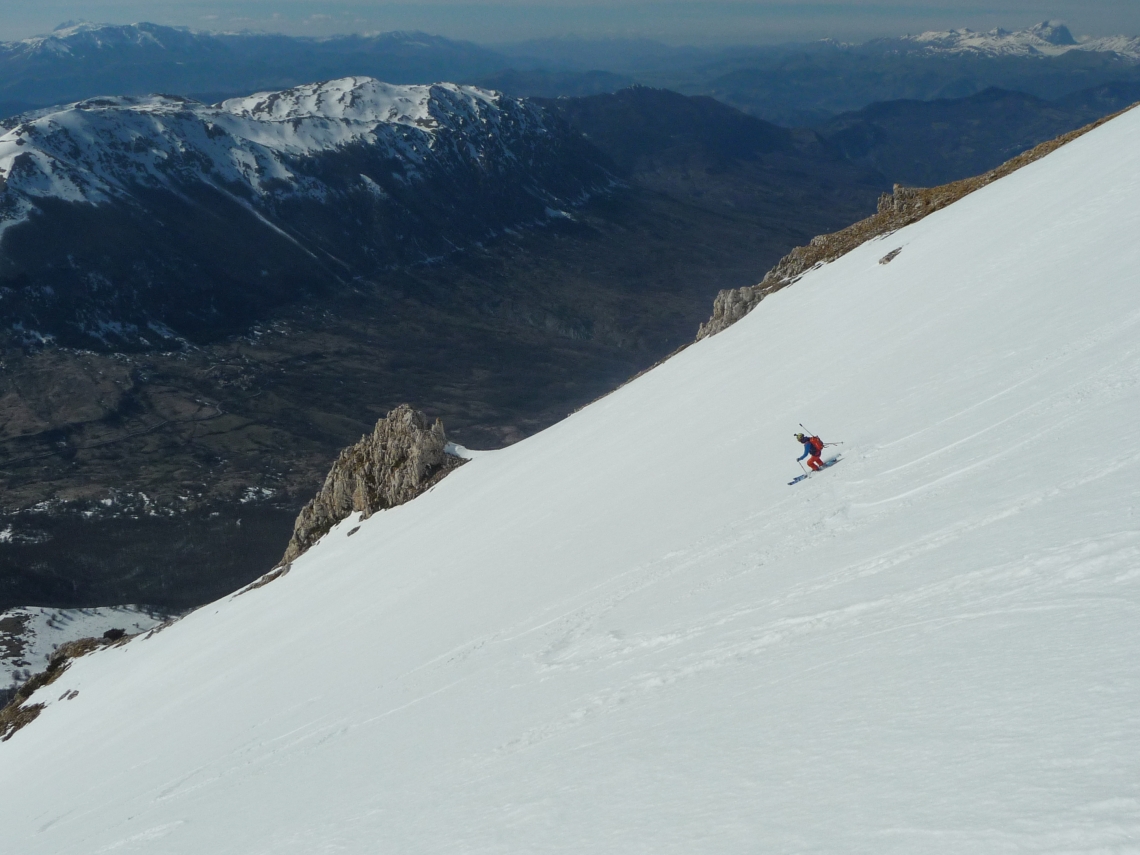 At 8,45 from Fonte Fredda (1265m) nearby Passo San Leonardo, after having moved a car to the Lama Bianca road junction, we started immediately on the ski. It's a sunny and quite warm day; there is less snow coverage than usual in this season, it seems a month in advance, but the snow conditions are better than in the other mountains of Italy. Immediately we noticed there are many skitourers, a circumstance which happens very often in this route. After a woody stretch, the first view of whole Giumenta Bianca couloir is through a strip of broken off trees by old avalanches; quite impressive! We go forward up to the steepest section without ski crampons, then we are forced to put them on because the snow is still hard. The ascent is really long and almost wholly visible because it is a large and straight couloir. Finally, we get to a beautiful passage under the saddle (2616m), where it bends on the right under some rocks. Here we don't delude ourself to have got the top, because there are still 200m left to climb.
From the Amaro summit (2783m) the panorama includes Adriatic sea and the surrounding mountains groups of Central Apennine (Gran Sasso, Camicia, Morrone, Velino-Sirente, Marsicani mountains) and many other Maiella peaks; the wideness of Femminamorta's valley, that extends at our feet toward south up to glimpse Tavola Rotonda peak, is impressive.
The wind is quite strong so we wait for the rest of our group inside Pelino bivouac, close by the summit. We exchange impressions and comments with other skitourers that unexpectedly are not locals but come from North of Italy. We have to decide if to go downhill through Rava della Vespa: we ask ourselves if the snow is too hard. We can't get information because today nobody climbed it and nobody is going to descend it.
#4. La Rava della Vespa
At 14,00 we leave Amaro peak and we move, on hard packed snow, to the entrance of Rava della Vespa (2640m, circa) on the right of the rocks. Luckily, when I start to go downhill I have the confirmation that snow is firn and it will give us great satisfaction. The rest of the skiing is exciting; today we are alone to go downhill. We enjoy this wonderful slope doing countless serpentines.
At the bottom we find the Lama Bianca road still snow covered; after a while, we shorten going through the wood then we stop to have a rest at the Lama Bianca spring close to "Di Donato" shelter (closed in winter). Crossing again the road, there are some interruptions in the snow coverage; removing skis only 2-3 times and with final 500m of the portage we get to the car (1110m), while some of our group, following a stream, succeed on getting nearby without removing the skis.
The first time I had gone downhill the Rava della Vespa in 2015, but unfortunately in the high section the fog didn't allow to fully enjoy it, so I wished to do it again, in the best condition. This time, with 7 friends of the Ski touring Group "A. Bafile" Italian Alpine Club of Florence, in the context of a 2 days journey in Maiella mountains, we succeeded on it. It's a skiroute I strongly recommend: from the skiing aspect, it doesn't have competitors, at least in the Apennine. To the pleasantness of the journey has contributed being hosted by the Hotel "Parco della Maiella" at Sant'Eufemia a Maiella (PE), where we had a good time as the previous times we have been here.
HIGHLIGHTS
Start: Fonte Fredda (1265m)
End: Junction Lama Bianca road (1110m)
Date: 9/03/2019
Height difference: +1530m, -1670
Time: salita 4h00′
Difficulty (Blachere scale): OS
Maps: "Gruppo della Maiella" 1:25.000, ed. Società Editrice Ricerche – Folignano (AP)
Skitour guides: L. Mazzoleni (2014), "Scialpinismo in Appennino Centrale – La montagna incantata" ed. Iter,
A. Tassella, R. Tonelli (1997),"Scialpinismo nel Parco Nazionale della Maiella", D'Abruzzo Libri ed. Menabò – Ortona (CH)