It is an easy gorge (suitable for children) but very interesting and popular (7,5 Km). At the beginning is quite wide, then it's narrow and very intriguing; at a certain point, the gorge walls are only 1,6m apart and 300m high.
There are many gorges in Crete and they are a feature of its landscape and very attractive for hikers. This article belongs to a series dedicated to Cretan gorges that I went through. Other: #1 Agia Irini.
Crete's articles
How gorges were formed:
The gorges are formed mainly in carbonate rocks, i.e. limestone and marble. Since the late Miocene period, 5 to 10 million years ago, the intense uplift of the whole Cretan area, due to plate tectonics, accelerated carbonate rocks weathering and erosion by water and rivers forming not only many gorges but also caves and plateaus.
Imbros gorge
Is located in the Sfakia area and starts 0,8 Km to the south of the Imbros village (765m a.s.l.) and ends (7,5 Km) close to Komitades village (215 a.s.l.). The "E4" European path goes through it. It is an easy gorge and therefore suitable for children. At the beginning is quite wide and gorges walls are low, but they get more and more higher and closer; the narrowest point (named "Stenada") is only 1,6m wide!
Woodland is composed mainly by Cypress (Cupressus sempervirens), secondary by Abraham's oak (Quercus coccifera) found on the bottom of the gorge and clinging to the rocks of gorge walls, and less frequent Montpellier maple (Acer monspessulanum); the most widespread bush is the Jerusalem sage (Phlomis fruticosa).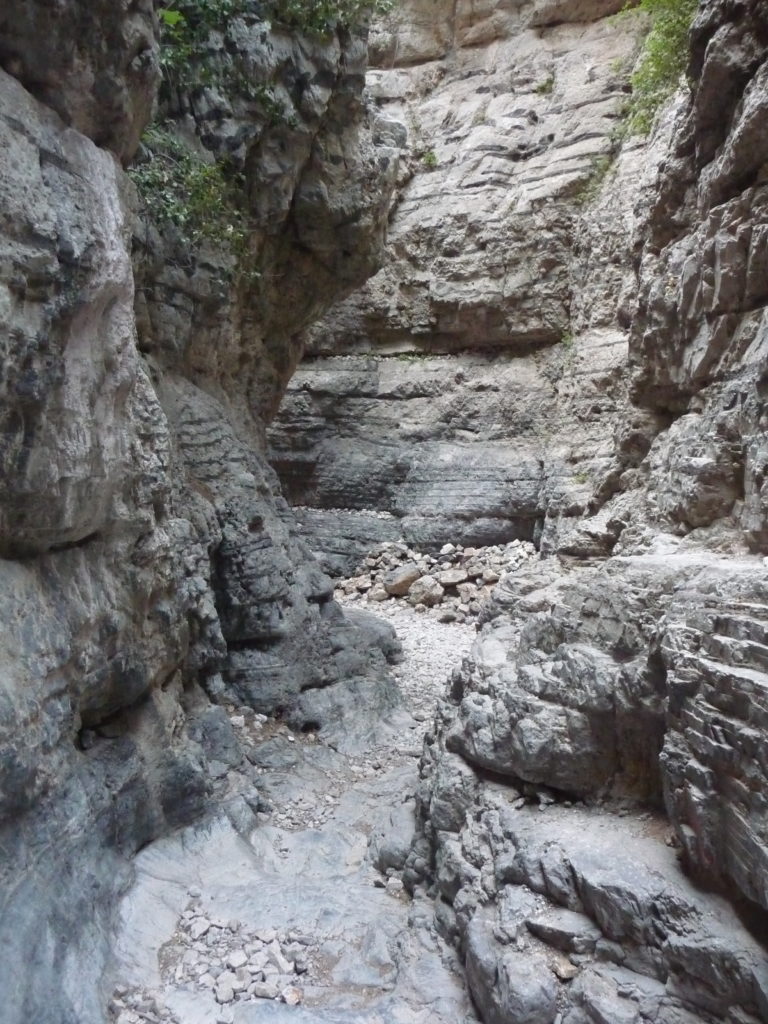 The Imbros gorge mule trail was the only connection between Chania and Chora Sfakion, before the road was built. The gorge witnessed several battles between the Ottomans and the Christians during the Turkish occupation of Crete, especially in 1821 and 1867 and evacuation of several thousands of British, Australian and New Zealand soldiers during World War II. Having suffered defeat at the hands of the Germans, troops retreated to beaches on the south coast where they were rescued by waiting for ships and transported to Egypt.
The hike is easy; most people do it downhill, but you can also go uphill.
In summer there are several buses from Chora Sfakion or from Chania to Imbros. To go back from the gorge exit, you can take a taxi or walk 5km on an asphalt road to Chora Sfakion then take a bus to go back to Imbros/Chania or try to hitchhike.
If you have a car, the best option is to park at the junction with the main road Chania-Chora Sfakion with Frangokastello and then take there the early bus (that starts from Chora Sfakion on 7,00) to go to Imbros. In that case, from the gorge exit, you have to walk 1,7 Km to retrieve your car.
The entrance ticket is €2,00/pp (2017).
The trip
I and my partner Gabi park our rented car at the junction with the main road Chora Sfakion-Chania with Frangokastello, where the bus, that starts from Chora Sfakion at 7,00, will take us to Imbros.
We start walking on 7,45, the ticket office of the gorge entrance is closed; we will pay at the other one located at the exit. There is only another hiker. We bring as usual plenty of water (there isn't drinking water in the gorge). Now it's not hot, but the temperature will rise to 32 °C with the weak wind. The gorge is quite wide and shallow: the vegetation is dominated by Cypress and Jerusalem sage (Phlomis fruticosa). Now and again we recognize sections of the old stone paved trail.
The gorge becomes narrower and there are some rockslides and rockfalls: several Cypresses have been damaged by stones and look like multi trunk trees, others that have been hit, fell down and we find their bare trunks. After 1h30' (second part) the gorge is spectacular: winding, very narrow (it reach 1,60m) and deep (around 300m). Moreover, the folded rock layers of the gorge walls are very impressive. At last, we come across other hikers that have preferred to go uphill (some of them even back and forth).
The final considerable landmark we go through it's a big rock arch named "Xepitira" then the gorge ends and at 10,55 we are again under the hot sun (3h10'). We get to the asphalt road close to Komitades village and, walking 1,7 Km, we retrieve our car at the junction with the main road Chora Sfakion-Chania with Frangokastello 35′, (tot. 3h45′).
Other articles on Crete:
Agia Irini gorge
HIGHLIGHTS
Start: Imbros (0,8 Km South of)
Date: 16th Jul 2017
Height difference: -550m (gorge exit)
Time: 3h10′ (gorge exit)
Maps: "Lefka Ori – Sfakia/Pahnes" [11.11] [11.12] 1:25.000 ed. Anavasi – Atene
In some stretches of the gorge there is a poor GPS signal, so the registered track is not precise.